All week
Awen 33, 33 Holyhead Rd, LL57 2EU
RitUal ExhiBition & EclogUe?*


All Saturday
Nantlle Room, Normal Campus, Bangor LL57 2HQ
Sounds for an Empty House
Monday 21 June
7pm Main Building, Bangor University, College Road, Bangor LL57 2DG
Metamorffosis Festival and Book Launch

7:05-8:30pm Main Building, Bangor University, College Rd, LL57 2DG
The Feel of the House of Usher
Vision and touch in the Svankmajers' Surrealism, Anna Powell

9pm Main Building, Bangor University, College Road, Bangor LL57 2DG
Language is à Virus:
The Chilean Variant
Tuesday 22 June
4-5pm Bangor High Street, meet by the Cathedral
Hag Haf Ha Ha Crone Cast

6-7pm Moelyci, Tregarth LL57 4BB
Women's Business Lucy Warren

7-8pm Moelyci, Tregarth LL57 4BB
Women's Business Lucy Warren

8-9pm Moelyci, Tregarth LL57 4BB
Women's Business Lucy Warren


Wednesday 23 June

6-7pm Church Island, Menai Bridge LL59 5EA
MicroWorldWalk Emily Meilleur

8.30pm Main Building, Bangor University, College Road, Bangor LL57 2DG
NWK-Triple Bill: New Welsh Art - Films & Performance


Thursday 24 June
4-5:30pm Clock Tower, High Street, Bangor LL57 1PD
ArrowWalk Emily Meilleur

6:30-7pm Pontio, Bangor LL57 2TQ
Grounded Natasha Dawkes

8-9:30pm Main Building, Bangor University, College Rd. LL57 2DG
Hap a Damwain


Friday 25 June
2-6pm Old Goods Yard, Menai Bridge LL57 2RQ
Geocache Bach Set Up*

7-8:30pm Pontio, Bangor LL57 2TQ
Hopewell Ink, feat. 'Homunculus' installation

9:30-10:30pm Old Goods Yard, Menai Bridge LL57 2RQ
Clash of the Twang
Saturday 26 June
10-11am Pontio, Bangor LL57 2TQ
Talk to me - artist walk Janet Ruth Davies

11-3pm Bangor Arts Initiative, Deiniol Centre Bangor LL57 1NW
Giant Fridge Poetry Kathy Hopewell*

11-4pm Old Goods Yard, Menai Bridge LL57 2RQ
Geocache Bach*

11-4pm Old Goods Yard, Menai Bridge LL57 2RQ
Box of Dreams Wanda Garner*

11:30-1:30pm Old Goods Yard, Menai Bridge LL57 2RQ
Trawsffurfiad

2-4pm Treborth Botanical Garden, Menai Bridge LL57 2RX
Journey with Rivers

5pm Pontio, Bangor LL57 2TQ + online
The tales I was told to tell Jo Munton

6:30-10pm Awen 33, 33 Holyhead Road, Bangor LL57 2EU
RitUal ExhiBition & EclogUe


Sunday 27 June
10-11am Bangor High Street, meet by the Cathedral, suitable for children
Seeing through Photography. A Walk Janet Ruth Davies

11-4pm Old Goods Yard, Menai Bridge, LL57 2RQ
Geocache Bach*

11-3pm Old Goods Yard, Menai Bridge, LL57 2RQ
Box of Dreams Wanda Garner*

11-1pm Old Goods Yard, Menai Bridge LL57 2RQ
Trawsffurfiad

1.30-3pm Nantlle Room, Normal Campus, Bangor LL57 2HQ
Blackout Fiona Cameron

3:30pm Treborth Botanical Garden, Menai Bridge LL57 2RX
Metamorffosis, Revolution and
Botanical Time Zoë Skoulding

4:30-5:30pm Treborth Botanical Garden, Menai Bridge LL57 2RX
Metamorffosis movement!

6:30-7pm Bryn Celli Ddu, Llanddaniel Fab, Ymys Môn LL61 6EQ
Bacchanates y Farclodiad
Grounded
Dancer Natasha Dawkes and actress Bethan Rose Young are combining dance for film with voice, as well as a live dance performance. We focus on the reconnection we have had with nature due to lockdown allowing us to have the time to stop, breathe, and reflect. What we have found is the connection to nature is what connects and grounds us in life, the way we look at our lives and consequently form our relationships with other humans. We invite conversation about what humans are also doing to the nature we live in, specifically in relation to climate change

6:30-7pm Thursday 24 June
Pontio, Bangor LL57 2TQ
Metamorffosis movement!
One of the major ways that the Covid pandemic has positively impacted the world, is in creating time for many to go inwards, connecting to personal inner worlds and prioritising time with certain relations and increasing time out in nature. Simultaneously, it has been realised by many, to have warranted a profound affect on the arts, both in visual terms and live performances.
Using the power of the Metamorffosis intention, we will be exploring deeper into these themes, blurring the lines and edges between our surrounding nature and our wild intrinsic nature. Through authentic improvised movement and sounding, a cohort of us wild humans will publicly share some moments in time reflecting back what communing in nature looks like, and what nature would communicate through us when asked.

4:30-5:30pm Sunday 27 June
Treborth Botanical Garden, Menai Bridge LL57 2RX
'Women's Business'
This is an hour of film and magic. The artist uses the experience of self-made ceremony to explore the interaction between creative experience and change. At the event, the viewer will be invited to create their own metamorffic experience and discuss the power behind visualization, representation, and the self. The film shows female nudity and the ceremony was created to include women. I have decided not to close the event off to men, but . . .
by Lucy Warren.


6-7pm, 7-8pm, 8-9pm Tuesday 22 June
Moelyci, Tregarth LL57 4BB


MicroWorldWalk
A guided walk led by the followers of minutiae into wood (Coed Cyrnol, Menai Bridge). You will be exploring the micro worlds of mosses and other minuscule items (particles of rocks and crystals, soil) and will hear stories of microscopic animals (tardigrades and others), drawing on the sensory perception of sound (possibly using stethoscopes). The event will offer a mindful engagement with the minutiae of the natural world and an opportunity to become lost in small detail.
The walk will last up to one hour. Hand lenses and magnifiers will be provided. All are welcome.

The event is limited to 30 people who are 18 years or older.

6pm Wednesday 23 June
Church Island, Menai Bridge LL59 5EA

ArrowWalk
This walk, guided by artist Emily Meilleur, and based on psychogeography, will be following the arrows found in and around Bangor town streets.
Arrows are signs that have proliferated in the last year in public and private places. Join us for experiencing and examining arrows old and new, and investigating their direction, symbolism and purpose: such as direction pointers or weapons. Noting the direction of the arrows with compasses, we will photograph them and possibly make recordings at their locations. Clipboards will be used to make notes and drawings as we go.


The walk will last for up to one hour and all are welcome. Equipment will be provided on the day.

The event is limited to 30 people who are 18 years or older.

4-5:30pm Thursday 24 June
Meet at 4pm by the Clock Tower, High Street, Bangor LL57 1PD
Metamorffosis, Revolution and Botanical Time: A Poetry Walk
Poet Zoë Skoulding invites you to join her on a walk with the French Revolutionary Calendar, in which saints' days were replaced by the names of plants, animals and agricultural implements. Find out about the history of the calendar and some of the plants mentioned in it, listen to some poems and discover metamorffosis as revolution.

The event is limited to 30 people who are 18 years or older.

3:30pm Sunday 27 June
Treborth Botanical Garden, Menai Bridge LL57 2RX
Book Launch
Together with Iawn Cymru we celebrate the launch of their Easy Reader for Welsh Learners Series. Franz Kafka's seminal short story Metamorffosis the first title to appear.
Learn about Gregor Samsa's fantastic metamorphosis into a giant bug and transform into a more confident speaker of Welsh.
What a better way to start our festival?

7pm Monday 21 June
Main Building, Bangor University, College Road, Bangor LL57 2DG
Language is à Virus: The Chilean Variant
Language is a virus that doesn't respect borders! This event will present visual and sound poetry performances on video from Chilean poets and performers who create unique variants between languages, cultures and art forms. Featuring Felipe Cussen, Martín Bakero, Anamaría Briede, Martín Gubbins and Pía Sommer, introduced by Zoë Skoulding.

9pm Monday 21 June
Main Building, Bangor University, College Rd, LL57 2DG
Blackout Bach - A poetry workshop and performance
This 'blackout bach' poetry workshop will invite you to make small differences and textual interventions at a local, personal and line level through the transformative nature of blackout poetry.
We will create tiny positive poetic responses to our troubled world lifted from the source text of the frequently bleak news cycle we face day to day.
Participants will create a poem and have the chance to read their work aloud to the group in an end of session performance.
The session will then segue into a reading by Fiona Cameron from her new book She May Be Radon. She will introduce this focusing on some of the ecopoetical concerns raised in the collection.

1.30-3pm Sunday 27 June
Nantlle Room, Normal Campus, Bangor LL57 2HQ
Giant Fridge Poetry
In this event, which is open to all who wish to participate, we will take magnetic fridge poetry to a new level. We'll send you out into Bangor High Street to find words in the real world and ask you to bring them back indoors and metamorffose them into poetry.

11-3pm Saturday 26 June
Bangor Arts Initiative, Deiniol Centre Bangor LL57 1NW
Hopewell Ink
Hopewell Ink are a spoken word and music band from Bethesda.
For this performance we might metamorffose our words and sound into the Goats of Cyprus, My Fine Blackbird, or some Gentle Men. We might aim to provide The Cure for Silence or travel together to Newborough and end up being all At Sea.
In presenting a Zen Poem we will hope to persuade our listeners not to have a Hard Heart but to enjoy our pieces, which are written by Kathy Hopewell and woven together with guitar and harmonium music, drum rhythm, electronic noise by David Hopewell.

7-8:30pm Friday 25 June
Pontio, Bangor LL57 2TQ
Homunculus
Join us for an unique synaesthetic experience of Homunculus, by electroacousic end of the musical spectrum artist Ed Wright.
He describes his Homunculus as "an audio visual mirror to people society and the world". But it is more than that, as it turns out to be a fairy tale mirror...

7-8pm Friday 25 June
Pontio, Bangor LL57 2TQ
Sounds for an Empty House
Soundlands and Plas Bodfa Projects Presents:

A 24-hour livestream of sounds created with and from Plas Bodfa, Anglesey with 24 Welsh sound artists, creatives and groups

Saturday, 26 June, beginning at sunrise (05:00)
live for 24 hours until
Sunday, 27 June, ending at sunrise (05:00)

Sounds created by the house itself and its immediate surroundings will be live-mixed, augmented and manipulated.

You can play the stream for any part of the day that you like, or you can come to a live stream to the empty Normal Site Campus, Nantlle Conference Room. We will play the stream there, enabling you to engage with an empty house, at an empty site and the sound of the empty house.
Hap a Damwain
Experimental isolation ballads from the coast. Spent the last year making lockdown lullabies via zoom. This is their first live show.

8-9:30pm Thursday 24 June
Main Building, Bangor University, College Rd. LL57 2DG
Clash of the Twang
Free spirits in a buttoned-down World, channelling mighty grooves and lush tunes to set your heart & feet ablaze: Come and listen to the River Man's Songs and Let Yourself Go, Let Yourself Go...

9:30-10:30pm Friday 25 June
Old Goods Yard, Menai Bridge LL57 2RQ
Geocache
"Another world is not only possible, she is on her way. On a quiet day, I can hear her breathing" - Arundhati Roy.


Find and build your own Utopias Bach - a world of tiny possibilities and imaginings - in dystopian cracks and corners in and around TOGYG: discover messages from the future and rethink your relations while navigating your way through unhinged polarities, scales and beings: not to conquer the world but open the metamorffic possibilities of others.

2-6pm Friday 25 June (Set Up)
11-4pm Saturday 26 June
11-4pm Sunday 27 June
Old Goods Yard, Menai Bridge LL57 2RQ
The Feel of the House of Usher
Vision and touch in the Svankmajers' Surrealism. Films and talk.


Why are the senses limited to five, led by sight ? Can vision and sound create tactile sensations via metamorffosis? Could touch produce thoughts as well as feelings? Is "viewing" a valid word for our encounter with Svankmajers' surrealist films? Does a fixed, centralised viewer actually exist?
To explore these questions Eva and Jan Svankmajer developed Tactilism in practice and theory. In 1970s Prague, when filmmaking was censored, their workshops experimented with the tactile imagination,
'I am a hand, a tool [...] instead of fingernails I have petite, sharp, sweet-toothed little tongues with which I lick the world' (Jan Svankmajer).

7:05-8:30pm Monday 21 June
Main Building, Bangor University, College Road, Bangor LL57 2DG
Gwaithdy Trawsffurfiad – Shape Shifting Workshop
Shake off your human limitations by travelling into a parallel world, shapeshifting into a more-than-human being on the way (animal, vegetable or mineral or hybrids thereof) to seek prescient insights and advice for our human selves. We will return with gifts to create tiny glimpses – Utopias Bach - that will bring another world just that little bit closer.


This will be a 'guided visualisation' workshop (un yn y Gymraeg, one in English), with option to create something to add to GEOCACHE BACH).
We also hope to make some recordings, for you to take the journey as and when you wish.

11-1:30pm Saturday 26 June
11-1pm Sunday 27 June
Old Goods Yard, Menai Bridge LL57 2RQ


Content from Youtube can't be displayed due to your current cookie settings. To show this content, please click "Consent & Show" to confirm that necessary data will be transferred to Youtube to enable this service. Further information can be found in our Privacy Policy. Changed your mind? You can revoke your consent at any time via your cookie settings.
Consent & Show
Journey with Rivers
Ioanna Daphne Giannouatlou and Stephanie Januchowski bring you Journey with Rivers! Join us outdoors for two hours where we Imagine, Write, Create, Dress-up and Improvise about our rivers!

The event is limited to 30 people who are 18 years or older.

2-4pm Saturday 26 June
Treborth Botanical Garden, Menai Bridge LL57 2RX


Hag Haf Ha Ha
In 2020 Crone Cast commenced the deterritorialisation of the natural and built environs between Bangor and Porthaethwy. We did this in a wild participatory provocation by aged women with the non-human entitled Base Becoming.
This year Crone cast continues its indecent quest for transmutation by seeking out the spaces between places - the liminal, borderline areas between the human and otherness, above and below the skin. Join us* in imagined futures, in performance in locations not yet discovered around Bangor Town Centre.

*Crones wishing to take part, come with your socially distanced outfit/email [email protected] for dresscode.


4-5pm Tuesday 22 June
Bangor High Street, meet by the Cathedral
Bacchanates y Farclodiad
Borrowing from the myth of Orpheus whose decapitation at the hands of the Bacchanates at Delphi represents a rite of spring, a Greek pagan ritual. Also attaching a syncretic parallel taking from the decapitation myth of Bendigeudfran of Branch 2 of the Mabinogi we present Lleidigeudfran ('diminutivegeudfran') who will recite his poem, (and rather like Macbeth) encounter the Bacchanates, have his head torn asunder where it will be carried via wild procession up to the burial chamber and eventually placed on a plinth. The head is reanimated and then continues its litany while the Bacchanates continue their junketing. The Bacchanates will be dressed as various incarnations of witch Hecate, Shakespearian, Pagan, White, Black.

* Only suitable for children over 12.

6:30-7pm Saturday 27 June
Bryn Celli Ddu, Llanddaniel Fab, Ymys Môn LL61 6EQ
The tales I was told to tell
"The Tales I was told to tell" is a powerful storytelling puppet show about the stories given to me, my an old Shaman woman, whom I met whilst on tour in Siberia. It has been specially designed for online audiences and supported by Moving Parts - Newcastle Puppet Festival.

Suitable for all ages.

5pm Saturday 26 June
Pontio, Bangor LL57 2TQ + online
Performance by the NWK-Bouyz
Help us to solve the mystery of the series of crimes which had happened towards art recently. Our inspectors are nothing but clueless and need you to make an end to the horrific crimes we had to witness over the past year.

8:30-10pm Wednesday 23 June
Main Building, Bangor University, College Road, LL57 2DG
Mother's Mask
A family melodrama in Wales in 2020. Mid-Covid, Post-Brexit. Intrigue, disease, death and ambition, adoration, love and nature.
This NWK-production is an intriguing offering cinematic shots of the most beautiful scenery there is in North Wales. A truly moving picture with references to expressionism, Douglas Sirk, Veit Harlan and Christoph Schlingensief. You don´t want to miss.
With an original score by Alan Holmes.
30 min.

8:30-10pm Wednesday 23 June
Main Building, Bangor University, College Road, LL57 2DG
The Man in The Elevator
An employee is on the way to his boss in the elevator, whom he calls "number one". The trip from the bottom to the top turns out to be a horror trip, as the employee wants to be on time but doesn't know the exact floor number. Time is out of joint, the speed of the elevator becomes independent. This text by East German playwright Heiner Müller from 1979 strangely speaks to a 2021 Wales. In 2020, it triggered an exploration of rité de passages through lockdown Wales, Bolivia and Mexico and resulted in this NWK film production, starring Alan Holmes, Huw Jones and Helga Müllneritsch.
With an original score by Mexican poet and jazz musician Luis David Palacios.
25 min.

8:30-10pm Wednesday 23 June
Main Building, Bangor University, College Road, LL57 2DG
.
Gallery in a box
The box of dreams gallery offers an ideal solution for people on the go or those with limited space. Open the box and enter the dream world of strange imaginings.

11-4pm Saturday 26 June
11-3pm Sunday 27 June
Old Goods Yard, Menai Bridge LL57 2RQ
King UBU Roi König
Peep-hole exhibition for the collaborative Ritual, Exhibition and Eclogue Project.
Afon Gad responses to our shared, and hidden ecosystems of animal, song, plant, flow, history, wind, mind, maps, transcripts and verse.

All week
Awen 33, 33 Holyhead Road, Bangor LL57 2EU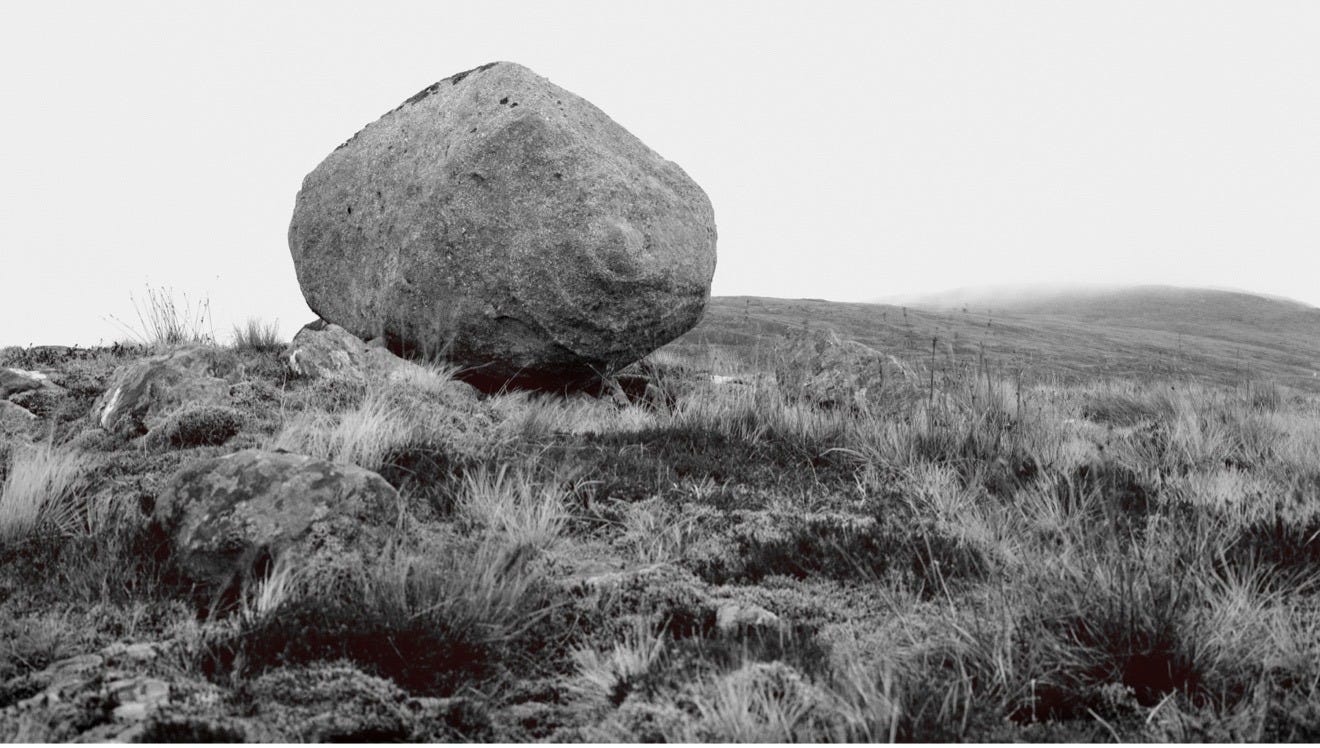 Hidden in Plain Sight
... is a series of analogue photographs initially inspired by Charles Darwin who in 1831, traversed the landscape of north Wales in search of geological evidence to prove that an Ice Age had carved the precipitous mountainous landscapes. He discovered a group of erratic boulders later referred to as Darwin's Boulders. They take their name from the Latin 'Errare' meaning to 'Wander' and are known to migrate hundreds of kilometres from their original position. They can be perceived as a metaphor for how culture can be disrupted, displaced and moved by the environment within which we live. Hidden in Plain Sight touches on the perceptual relationship between the invisible and visible, and cultural politics of being seen and unseen.
Hidden in Plain Sight Erratics have migrated to various outdoor locations in the City of Bangor and Menai Bridge. Reframed for the Metamorffosis festival with the provocation "Talk to Me" I am inviting you to re-discover the Erratic Boulders and tell your story through the writing and sending of a postcard.
'Talk to Me' postcards will be available for free throughout the festival venues


'Talk to Me' Artist walk Saturday 26 June at 10.00am
Pontio, Bangor LL57 2TQ.

'Seeing through Photography' A creative Walk Sunday 27 June at 10.00am
Meet at Bangor Cathedral. Suitable and targeted for children. Children need to bring a guardian.

Image all rights reserved Janet Ruth Davies
The Metamorffosis Festival
is kindly supported by the Arts and Humanities Arts Council (AHRC).